Tag Archive
You are currently browsing the tag archive for the 'cookie' tag.
Chocolate Chip Cookie Bowls For Ice Cream
INGREDIENTS:
3 cups All-Purpose Flour
1/2 teaspoon Baking Powder
1 teaspoon Salt
1/2 cup Butter Flavor Shortening
1/2 cup Butter, softened
2/3 cup White Sugar
2/3 cup Packed Brown Sugar
2 eggs
2 teaspoons Vanilla Extract
1/2 cup Mini Semi-Sweet Chocolate Chips
DIRECTIONS:
1.  In a large bowl mix together the flour, baking powder and salt.  Set aside.
2. In a separate bowl cream together the shortening and butter.  Then mix in the sugar and brown sugar until combine.
3. Add in the egg and vanilla.
4.  Add about a fourth of the flour mixture to the wet mixture.  Continue adding small amounts of the flour mixture until combine.
5. Stir in chips.
Letting it Freeze:
Now….
There are two different ways to complete the next couple of steps….I will give you both so you can choose which is easier for you.
You can form the dough in to a ball and place in a plastic bag and freeze for an hour.
You can go ahead and ROLL the dough out between two piece of wax paper.  I try to roll my just a smidge thicker than I would if I were making a pie dough.  Once rolled out I gently lift off the top layer of wax paper and take my biggest circle cookie cutter and press down.  I replace the wax paper and again…..gently lift the cookie dough with wax paper onto a cookie sheet or sheet cake pan.  Freeze for an hour.
6.  If you place your dough in a plastic bag….after you freeze you will want to roll it out.
7.  Preheat your oven to 375 degrees.
8.  Take a muffin tin and turn it right side down and line the muffin bottoms with foil and spray with cooking spray.  You will need to line every other one.
9.  Take the cookie dough and form it around the lined muffin bottoms.  This could take a while.  I found it best to make sure the dough stays cold.  Sometimes I would even place the dough back  in the fridge while I worked on one.
10. Bake for 11 minutes or until just starting to brown in a 375 degree oven.
11.  Once done let cool for 5 to 10 minutes on the muffin pan.  Then remove and set aside for them to completely cool.  It was not hard at all to remove the bowls.  They lifted right off the pan.  Left the foil on until the bowls are cooled completely.
12.  Gently remove the foil and add in ice cream.  You could also add in brownies, cheesecake….even make it a bowl for holding fruit and fruit dip.
My kids loved it.  We made these for father's day!
~Enjoy!~
March 21, 2012 in dessert, Pastry, Pot Luck, snacks, treats | Tags: cookie, dessert, Empanadas, fruit, Pastry, pot luck, preserves, recipe, spreads | Leave a comment
Empanadas
So easy to make….BUT, you HAVE to work FAST!!
Ingredients:
1/2 cup butter, softened
3 ounces cream cheese
1 cup  flour
1 cup fruit preserves, pie filling…etc.  (the choice is yours–I used  Duncan Hines Comstock  Limited Edition Caramel Apple pie filling)
1/3 cup white sugar
1 teaspoon ground cinnamon
Directions:
Day Before:
1.  Mix butter and cream cheese together until smooth.  Mix in the flour.
2.  Shape dough into a smooth ball, wrap in foil or cling wrap, and refrigerate overnight or up to a week.
When Ready for Baking:
Preheat oven to 375 degrees.
1. Flour (and I like to also use a little powdered sugar in with the flour to give it a touch of sweetness) a work surface.  And roll dough THIN.  You have to use COLD dough right out of the fridge!  Do not let it sit out or you will end up with a mess (well a bigger mess).
2. Cut dough using a cookie cutter.  My cookie cutter is roughly 3.5 inches in diameter.
3. Quickly fill with the filling of your choice.
4.  Fold over and seal the edges.  I use a fork or my fingers to seal.
5.  Bake at 375 degrees for approx. 15 minutes are until just brown.
6.  Mix sugar and cinnamon together.
7.  Toss in Cinnamon sugar mixture when right out of the oven. Careful not to burn your fingers.
Notes:  Remember to work quickly.  Have everything you need out!  This can also be made into something savory!!
~Enjoy!~
February 23, 2012 in Candy, cookies, dessert, Pot Luck, recipes | Tags: cookie, dessert, Macaroons, oatmeal cookie, Overnight Macaroons, recipe | 1 comment
Overnight Macaroons
I am very honored (and thankful) to Lori for sending me this recipe.  She actually sent me a lot of recipes and I intend to try them all!  This recipe did NOT disappoint at all!  Matter of fact I couldn't keep my hands away from them-Gee, Thanks Lori!
These are really fun to make.  This would be a good recipe to teach kids how to bake.
Ingredients:
4 Cups Oatmeal
2 Cups Brown Sugar
1 cup vegetable oil
2 eggs, beaten
1 tsp. salt
1 tsp. Almond Extract
Directions:
The night before mix together the oatmeal,  sugar and oil.  Cover and let set out overnight.  (This is where the 'overnight' comes in )
The next morning mix in the beaten eggs, salt and almond extract.
I lined a cookie sheet with parchment paper to bake them.
Bake in a 325 degree oven for 15 minutes.
Note:  These little cookies spread.  But they are supposed to.  They get a little crunchy around the edges…but they have a great chewy middle.  Please keep in mind that oven temps vary.  Mine was done at 12 minutes.
After the cookies were done baking I let the rest on the parchment paper for a few minutes.  I then peeled them off and placed them on wax paper to cool.
Thanks Again, Lori!  Even my VERY VERY picky eater loved the cookies!
~Enjoy!~
Stained Glass Marshmallow Cookies
This is in between a cookie and a candy.  It will satisfy any sweet tooth!
Ingredients:
1 stick or 1/2 cup of butter
2 cups semi-sweet chocolate chips
1 cup chopped Walnuts (you can leave this out all together)
10.5 ounce package colored mini-marshmallows
flaked or shredded coconut, as needed
cooking oil spray
Directions:
1.  Melt chocolate chips and butter together in double broiler or in the microwave.
2. Cool slightly…about 5 minutes.
3. Add walnut and gradually add marshmallows. Stir until well coated.
4.  Turn onto wax paper.   Making two logs with your hands.  This will get messy!
5. Let them stand for an hour.      Then roll into coconuts.
Note:  If you don't like coconut you can also use Powdered sugar to roll the logs into.
6. Refrigerate overnight or 24 hours.  Unroll and cut into slices. Store in air tight container.
~Enjoy!~
December 14, 2011 in cookies, dessert, Gift, Holiday | Tags: Blossoms, cookie, dessert, Peanut butter, Peanut Butter Blossom Cookies, Peanut Butter Cookies, recipe | Leave a comment
Peanut Butter Blossom Cookies
Ingredients:
1/2 cup crisco butter shortening
1/2 cup creamy peanut butter, room temperature
1/2 cup granulated sugar
1/2 cup firmly-packed brown sugar
1 egg
1 tablespoon milk
1 teaspoon pure vanilla extract
1 3/4 cups AP (all purpose) flour
1 teaspoon baking soda
1/2 teaspoon salt
1/4 cup granulated sugar (set aside)
48 Chocolate Candy Kisses, unwrapped
Directions:
Preheat oven to 375 degrees.
Line cookie sheet with parchment paper.
In a large bowl, cream shortening and peanut butter until light and fluffy. Gradually add 1/2 cup granulated sugar and brown sugar; beating until light and fluffy.
Next add the  egg, milk, and vanilla extract; beat well.
Mix in the flour, baking soda, and salt; stir into creamed mixture until well mixed.
Roll dough into 1 inch balls (I use a cookie scoop to get uniform cookies) and roll into sugar that you have set aside.
Bake for 7 minutes.  After baking; press a chocolate Kiss into the center of each cookie.  Return to oven and bake an additional 2 minutes. Remove from oven and let cool on cookie sheet for 1 minute.  Remove from cookie sheet and let cool on wire cooling racks.
Cake Mix Cookies–Rolo
So very easy….a cave man could do it!  ;)
And Yummy too!
Ingredients:
1 boxed chocolate cake mix (I used Devil's food)
2 eggs
1/3 cup vegetable oil
Bag of Rolo Candy
Powered Sugar for dusting
Directions:
Preheat oven to 350 degrees.
Combine the cake mix, oil and eggs.  This will be pretty stiff dough.
Unwrap all the rolo candies.
I use a cookie scoop ( a little over a tablespoon in size) to scoop out perfect 'balls'), then take a single rolo and smoosh it in the center and then roll the dough around the rolo.  Place on a cookie sheet.
Bake for 9 to 10 minutes.  Let stand a couple of minutes on the cookie sheet before trying to move them.  Dust with powdered sugar.
Makes about 2 and a half dozen yummy cookies.
*Note: If you can't find rolo's in your area.  (my local Wal-mart doesn't carry them) Look in candy places in your local mall.  I found some there.  I also found them at my local Dollar Tree!
~Enjoy!~
This recipe is linked to the following:
Classic Snickerdoodles
So good–you can't have just one!
Ingredients:
1 cup butter, softened
1 1/2 cup sugar
2 eggs, beaten
2 1/4 cup self-rising flour **See Note**
2 Tablespoons sugar
1 teaspoon ground cinnamon
1.  In a large mixing bowl mix butter and sugar.  Add beaten eggs.  Blend throughly.  Blend in flour a little at a time, until all of the flour is incorporated.
2. Form into 1-inch balls.
3.  Mix sugar and cinnamon in a shallow bowl.  Roll the cookie balls in the cinnamon/sugar mixture.  Place cookie balls 2 inches apart on ungreased cookie sheet.
4.  Bake at 400 degrees for 8 to 10 minutes (9 minutes works perfectly for me)
5. Remove cookies from baking sheet and place on a rack to cool.
These are delicious warm and right out of the oven!  Perfect for afternoon tea as well.
**If you are using all purpose flour you will need to use 2 1/4 cup flour, 2 teaspoons cream of tartar , 1 teaspoon soda, and 1/4 salt.
***If dough feels to sticky put it in the refrigerator for 30 minutes then roll into balls.
****I use a cookie scoop to get the perfect shape in making cookies like this.
January 6, 2009 in cookies, dessert, food, recipes | Tags: baking, cookie, dessert, food, play dough, play-doh, play-dough cookies | Leave a comment
"Yes, you CAN and Will want to eat these sweet cookies.  Yes, they do take some time to get to the finished product.  It is well worth that time!  The idea's of this cookie (or what you can shape out of this cookie are just endless!"
Ingredients:
3/4 cup butter, softened
8 ounces cream cheese
1-1/4 cup white sugar
1 egg
2 teaspoon vanilla extract
2 3/4 cups all-purpose flour
1 teaspoon baking powder
1/4 teaspoon salt
assorted colors of paste food coloring
24 lollipop sticks (optional)
Directions:
1. Preheat over to 350º.
2. In a bowl cream butter, cream cheese and sugar until fluffy. Add egg and vanilla; beat until smooth.
3. In a medium bowl combine flour, baking powder and salt. Add dry ingredients to the creamed mixture. Stir till soft dough forms. Divide dough into fourths. Tint each with a different food color. Wrap in plastic wrap and chill for 2 hours.
4.  Working with half of each color, shape dough into 3/4 inch balls and for each cookie place 1 pink, 1 green, 1 blue and 1 orange ball together to make 1 large ball. Shape into a 12 inch long roll (like a snake), starting at one end, coil roll to make a 2 3/4 inch round cookie. Place cookies 3 inches apart on lightly greased baking sheet. Carefully insert lollipop sticks into bottoms of cookies.
5. Bake for 8 to 17 minutes.  I know that is a BIG time difference.  You just have to check on these cookies.  I found my magic number of minutes for these were about 12 minutes.
The lollipop sticks are optional.  You can form this dough into just about anything.  My husband even made a bike out of some of this cookie dough.  Although, I can't find that picture.
Here are a few play-dough cookies my kids made just using there imagination. They are a Ladybug, A house and Tree, and the Great State of Oklahoma (where I am from).  We eventually want to make all 50 states!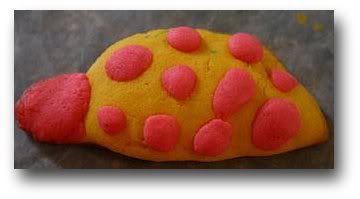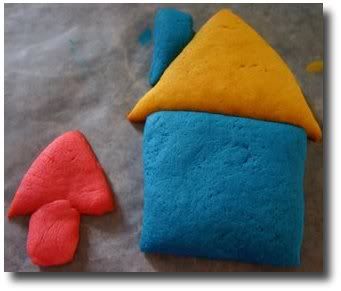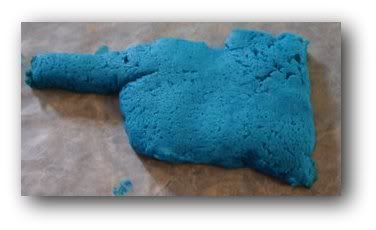 Have fun and ~Enjoy~